The all-time saves leader of the modern era,
Trevor Hoffman (41 years old) is expected to sign with the Milwaukee Brewers today
. If Melvin closes the deal, as expected, Milwaukee will have saved an otherwise dismal off-season. After losing their 1 and 2 starting pitchers, General Manager Doug Melvin seemed to be waiting-out the remainder of 2008. It seemed his focus was on concentrating on the first full week of the new year before he would make a move. Well, he has held true to his word.
The deal should be announced today and Trevor will be
donning
Brewer blue in 2009 and possibly 2010. The deal is thought to be worth 6 or 7MM dollars with an option the following season. The Padres allegedly made a 4MM offer to their closer of the past 16 years.
It looks like Trevor Time is coming to the Suds City!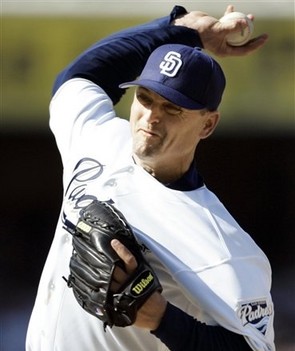 Other news
that occurred, to help Melvin's cause:
-LA Dodgers may not be able to
guarantee
the closing role to TH, if he signs there.
-LA has also been pursuing ex-
Brewer
Mota
and
jouneyman
Dennys
Reyes (is he plural?).
+ TH does have interest in LA, but wants to be assured that he will be the closer. LA can't do that.
With the lack of closers available in this years off-season, Melvin has been setting his sights on Hoffman since November. I think TH will have a successful season in Milwaukee, despite his age. I will repeat what other blogs and publications have been saying this week....TH is a change-up specialist. Thus ensuring critics that his arm can with stand the stress of a full season in the closing role. Milwaukee was also going to consider Chad
Cordero
, or at least observe a try-out that CC was doing with other teams.
What's next? If Melvin closes the deal this afternoon....
If Milwaukee does indeed sign TH, I would expect them to pass on Brandon Lyon, who could be used as a closer or a starter. My
long-shot
bet would be on the Crew going after Mark Mulder, who is suspect to injury of course...and a lot of it .
Now on the scary side....
With this signing of TH, Doug Melvin's stock is skyrocketing and I would anticipate a plethora of suitors in the 2009-2010 off season. His GM skills and ablitity to bring big name acts to the city of Milwaukee has been the surprise story of the decade (yes, decade) for the MLB. He is, and should be, considered the break through GM of baseball. His ideology and keen eye for talent, is one of the best in the bigs.