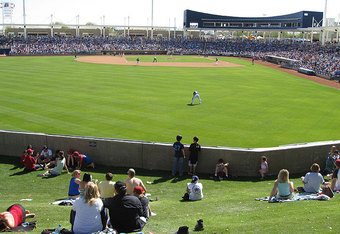 There's been a bout of good news lately for the Crew....Pitchers & Catchers report today. I lied the other day, I thought they were supposed to on Monday.
First off, it's likely that the Brewers and Rickie Weeks are going to agree on a contract extension prior to tomorrows arb hearing. The
deal is rumored
to be a 3-year deal. Again, the deal is only in the rumor stage but Ken Rosenthal (Fox Sports) was the first to report (tweet) it and now all the media outlets are picking up on it. If they do go to arbitration hearing,
Arizona's Kelly Johnson will probably be used as part of the argument
. He just signed a 1- year deal worth 5.85MM. Johnson filed for 6.5MM and the club offerred 4.7MM.
In other good news, the spoiled brats to the south of Milwaukee (no, besides the Cubs) are belly-aching over the liklihood of not being able to lock up their start 1B. Albert Pujols and the Cardi
nals have until 12-noon today to lock up a deal, otherwises all talks will be put on hold during the season; thus making it likely that Albert will playing for the Cubs next year (my hunch). Think about it, the Cubbies signed Carlos Pena to a little 1-year deal in order to free up some money to make a big run next season. This is GOOD NEWS for Brewers fans because it means that Prince will most likely be playing for SF, Texas, or elsewhere....NOT in the NL Central. I feel that this is good news because what ever happens to Albert, will have a direct effect on Prince. Then again, is this good news? Would you rather have to face Prince of Albert? Long shot here, but could Prince defy odds and remain a Brewer this off-season? It's tough to say right now (and unlikely), but if the
Crew makes a run at it
....ah....nevermind, his agent is Scott BorAss.
*Not Brewers news, but CC Sabathia is flirting with opting out of his contract. Wouldn't it be swell if he came back to Milwaukee. Never going to happen though.
*
Milwaukee is NOT on FOX tv's Saturday afternoon lineup
for games this season. Granted, the schedule can be changed through out the season based on performance/ratings. I personally think this is great news! I hate trying to watch/listen to the game on a Saturday afternoon when it's hot as snot outside. I would rather wait till it gets dark and the backyard fire is flaring....Miller Lite(s) in hand.