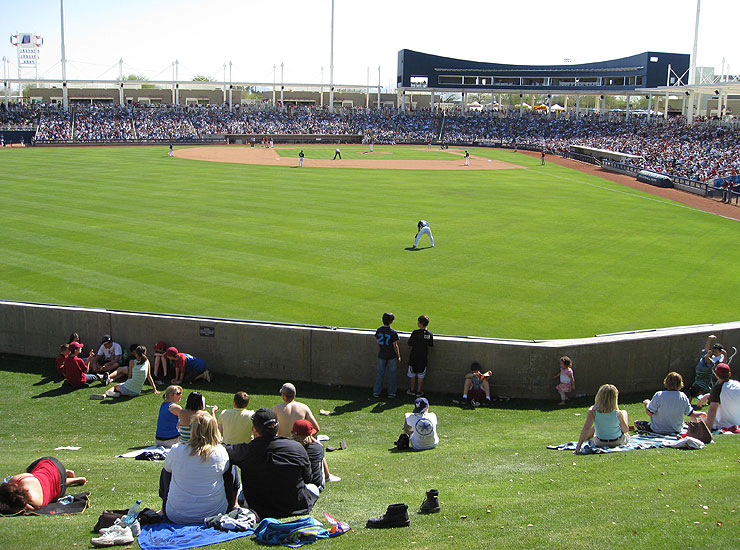 Milwaukee will play it's first exhibition game tomorrow versus Oakland. So if you have been craving the sounds of summer and
Uecker's
voice like I have, tune in to AM620. First pitch is at 2:05pm.
HERE
is the spring training schedule.
"Right-

hander

Jeff

Suppan

will be first out of the chute Wednesday against Oakland, followed by

Yovani

Gallardo

, Manny

Parra

, Braden

Looper

and Dave Bush...

Macha

said he will use an off day late in camp, on March 24, to realign his rotation if so desired for the regular season. But there's nothing to say he won't begin the season with the rotation aligned as it is now. -

jsonline

.com
So Jeff
Suppan
could
very well
start opening day. Which is fine with me. That way I don't have to watch him on Saturday (4/12) when they play the Cubs in Milwaukee...my first game of the year!
In
todays
intrasquad
game
JJ

Hardy blasted a homer
off Tim *
Dillard
. Mike* Lamb played
firstbase
today and made an impressive defensive play robbing Mat
Gamel
of an extra-base hit! Brewers inched one out....ha!
*Update! It seems I rushed through this post and mixed up Mr. Lamb's first name and forgot to add a "d" at the end of Dillard. Thanksfully, "JIM" was able to point that out in a very polite maner.
For those that follow papal events....
Milwaukee's own Tim

Dolan
was hand picked to become the
archdiocese
of New York. Hip-hip-
hoooooray
! Pictured above, Nolan threw out a first pitch for the Crew back in 2004.
Ex-Brewer
thirdbasemen
Corey
Koskie
will be
donning a Team Canada
jersey for the upcoming
WBC
. He's trying to make a run at cracking the
MLB
again. I can see him landing a gig with the Twins, if he hasn't already. He still lives in the Twin Cities. Why? I do not know. They butt.
The fellers at
Rightfieldbleachers
.com posted another interview with a Brewer prospect. Blake Billings
get's
the
ol
' "Q&A". Interesting stuff. I don't know how they pull these interviews off. I called Nick Carter once of the Backstreet Boys and chatted with him for a good 30 minutes. I don't know where I am going with that one...