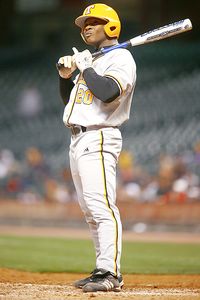 Milwaukee made their selections yesterday in MLB's 2009 draft. Two stand out, the rest I just don't know much about. Kentrail Davis and (of course) Eric Arnett will make an impact rather quickly, at the big league level. Arnett sooner than Davis, I would imagine.
Will Arnett, er...Eric Arnett went 12-2 this past season with a 2.50 ERA, 39 walks, 109 strike-out in 108 innings. That's a K an inning, for you mathematically inclined readers (like myself).
He stands 6 foot 5 inches and weighs 225 lbs. His fastball (bread & butter) hits in the mid-90's.
The other pitchers Milwaukee selected shared similar height/weight profiles. Melvin and Co. went after larger/taller pitchers who are very athletic. Burly pitchers who can hit the 90's with their fastballs.
Blah Blah Blah pitching....
I am more excited about the Brewers selection
Kentrail Davis
, a sophomore from Tennessee. The Vol has a pretty nice resume, as noted by here:
Davis earned four separate Freshman All-America honors, a UT first, in 2008 after leading the Vols in nine offensive categories. He claimed the team triple crown by pacing the club in batting average (.330), home runs (13) and RBIs (44). He also logged four multi-homer games and led the Vols with 21 multi-hit games.
Davis stands only 5 foot 9 inches and tips the scales at 195. He reminds me of a short little tailback who is quick and can run over the biggest of linebackers. He's built like a brick-shithouse. A workhorse if you will. A modern-day version of Kirby Puckett.
Mike Cameron won't play forever. Hell, I bet he will play 2 more years tops (if that) in Milwaukee. Who's the next option in Center? Corey Hart. Who would then play right field? Kentrail Davis...that's who. This kid will rise through the ranks and will be this years Brett Lawrie or Ryan Braun in the draft. Forget the uncertainty of pitching. Davis is where it's at.



__________________________
Milwaukee dropped their second straight last night to the Colorado Rockies (6 straight wins). Looper looked great until the 7th inning when he gave up a run. DiFilice came back and recorded his 7th hold. Then Todd Coffey came in and the Rockies went ahead quickly.
Despite taking an early lead behind Game's 2nd HR, the Milwaukee bats went silent the rest of the game. It seems like the days of come-from-behind wins are long gone. They don't have that magic like last season.
Billy Hall sucks.
Corey Hart is 5-33 in his past 9 games. Kentrail Davis should have a bright future in Milwaukee's outfield!