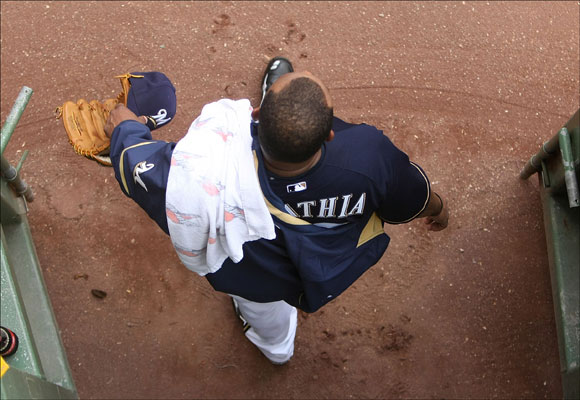 You can't really argue against the mentioning of CC's name when discussing the NL Cy Young. Between Webb, Dempster, and Sabathia the league has a 3 solid candidates who could take the prestigious award.
CC had another big game last night in San Diego, nailing down his 7th win since migrating north to Milwaukee. The big guy lasted 7 innings....and the state of Wisconsin is in shock...not a complete game?
He now has more wins for the Brewers then he did with the Indians this season. With plenty of run support by Milwaukee's bats, CC allowed 9 hits and struck out 8 batters. In all, he was very effective during key moments of the game. Most noteably coming in the 5th innings when the bases were loaded. It was CC getting out of that jam that made me realize just good we have it. This guy is unbelievable and will deliver us to the playoffs...finally.
Offensively
, the Brewers bats were ignited by Prince Fielder (28) who went yard in 3rd inning. Meanwhile, Ryan Braun is eagerly awaiting a return in order to hold off Prince in the HR count.
Ryan Braun (30) Prince Fielder (28)
-Rickie Weeks went 0-4. Yikes.
-Corey Hart hit his 5th triple of the season.
-These westcoast games are killing me and my sleep. Lately, with this series though, I just DVR the game and wake up 15 minutes early to speed through it. I feel guilty doing so, but I can't stay up that late anymore. Back at UW-Milwaukee I could've no problem. A sixer of Lite and pack of Marlb's...hell. No Problem. Now I only drink on Fridays, don't smoke, and am fat.
-
More on Russell Branyan's injury
. I'm calling bullshit on this one Ned.
-
Great story on CC Sabathia by ESPN
. Very good quote in there about CC having fun in Milwaukee. He may just be a true-genuwine guy (MGD) and want to stay in Milwaukee....But then again, money talks / bullshit walks in the end.
-LHP Zach Jackson, the
ex-Brewer who was part of the deal
for CC,
is starting against the O's tonight
. If my memory serves me, Jackson is from Ohio...I remember him pitching at Cincy in front of his family a couple of years ago. He is 2-2 at the big league level in a starting role.
-
Cubs won a doubler yesterday
. The Braves Suck badly right now.
-Good point made by
Rightfield Bleachers
:
The Brewers are 19 games over .500. They have the fourth best record in baseball. Even if they go just a game under .500 the rest of the season (20-21), they'd hit the 90-win mark. Wow... They're putting together an impressive year. Now, let's just catch those Cubs and make it even better.

-Alfonso Soriano is a D-Bag.

-More background on Brett Lawrie...love this kid.